You cannot add "Medium Las Señoras" to the cart because the product is out of stock.
Showing all 2 results
15.00€
One of the most beloved wines of the family. The oldest wreckers in the winery are still remembered with love every morning from the house on Carmen Viejo Street. Live example of the art of pitching, that is, they were looking for the perfect combination between a smelly old man and an old Pedro Ximénez, giving rise to a wine with a sweet but nothing cloying, being very balanced both in nose as in mouth
Read More
READ MORE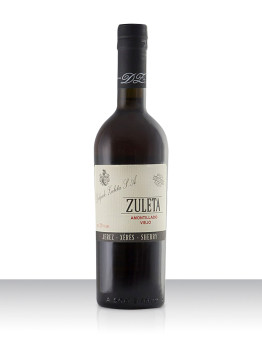 37.10€
The wine is made in the tradition and care of the Delgado Zuleta family. His soleras originals are rooted in the founding cellar of Carmen Viejo Street, in the Barrio Bajo of Sanlúcar. Listed as VOS (Very Old Sherry), it is the classic amontillado Sanluqueño, with fine and elegant notes on the nose but very soft in the mouth.
Add to cart
READ MORE