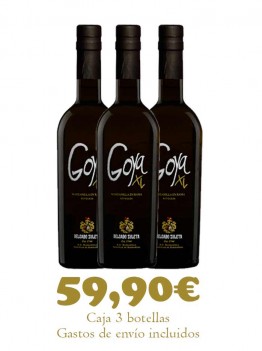 64.90€
Landing special offer for the third pulls out in the history of the wine cellar of our most exclusive manzanilla: Goya XL. Includes a box with three bottles and an invitation for two persons to the Wine Interpretation center of Delgado Zuleta. It's considered by experts one of the best manzanillas of the history, a limited edition only for special circumstances. Goya XL has 93 Parker points in the magazine Wine Advocate, and has been chosen the best manzanilla of the world by the International Wine Challenge.
Add to cart
READ MORE
19.90€
This pack contains:
1 bottle of manzanilla La Goya de 0'75 l.
1 bottle of manzanilla Barbiana de 0'75 l.
1 bottle of Viña Galvana de 0'75 l.
1 visit for 2 persons to the Winter Interpretation Center of Delgado Zuleta.
Add to cart
READ MORE