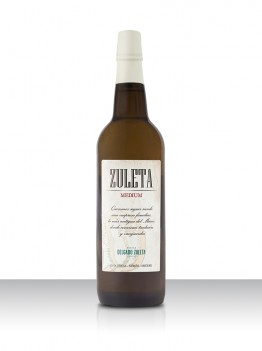 6.32€
Traditional sweet sherry blending type, a mix of dry wines such as Amontillado and Oloroso with sweet wines muscat type and/ or Pedro Ximenez.
Add to cart
BUY
12.40€
Uno de los vinos más queridos de la familia. Los arrumbadores más antiguos de la bodega aún recuerdan con cariño como cada mañana desde la casa de la calle Carmen Viejo, casco bodeguero fundacional, recogían en una jarra de porcelana blanca, que aún se mantiene, este vino para "las señoras". Vivo ejemplo del arte del cabeceo, es decir, la búsqueda de la combinación perfecta entre un oloroso viejo y un pedro ximénez viejo, dando lugar a un vino con un dulzor nada empalagoso, siendo muy equilibrado tanto en nariz como en boca.
Add to cart
BUY
11.07€
It is part of the blending type wines, traditional skilled combinations of dry Sherries and sweet wine of Muscat type and / or Pedro Ximenez. This wine is a tribute to 'Las Señoras (Ladies)', endearing label with which this wine was bottled for decades. Perfect choice as mid-afternoon wine and as a starter.
Add to cart
BUY