Product Description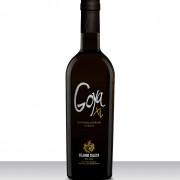 Manzanilla ecológica Entusiástico
Iniciativa pionera en el Marco de Jerez, ya que estamos ante la primera manzanilla ecológica de la historia. Representa el compromiso de la bodega con el cuidado del entorno, que tanto respetamos, valoramos y del que nos sentimos tan orgullosos. Los mostos provienen de un viñedo ecológico de palomino, situado en el cotizado pago de Burujena.
Out of stock
Email to a friend
Product Description
Ficha Técnica
Vino de crianza biológica bajo velo de flor. Proveniente de mostos ecológicos de la variedad palomino 100%, esta manzanilla tiene unos 2 años de crianza mediante el sistema tradicional de soleras y criaderas, y envejece en botas de roble americano recuperadas de la solera de La Goya. Su graduación alcohólica es de 15% vol. y se presenta en botellas transparentes y con tapón de corcho de 75 cl.
Nota de Cata
De color amarillo dorado, luminoso y vivo. En nariz se aprecian notas florales y las propias de la crianza biológica, manteniendo un afrutado que le aporta frescura, con un perfil más cítrico, pero con matices de fruta madura. En boca se va haciendo más seca, menos glicérica, y su paso se hace más largo y persistente, pudiendo apreciar claramente las notas aromáticas mencionadas anteriormente.
Maridaje
Además del tradicional maridaje con recetas marineras, esta manzanilla armonizará a la perfección con platos frescos como ceviche, tartar, ensaladas con frutas o platos vegetarianos.
Reconocimientos
90 puntos Guía Peñín 2019
91 puntos Guía Wine Up 2018
91 puntos Guía Intervinos 2018
91 puntos Guía Peñín 2017
90 puntos Guía Peñín 2016
86 puntos Parker (Wine Advocate)
Medalla de Oro Ecoracimo 2019
Medalla Oro CIVAS 2017
Best of Bio Wine Germany 2016