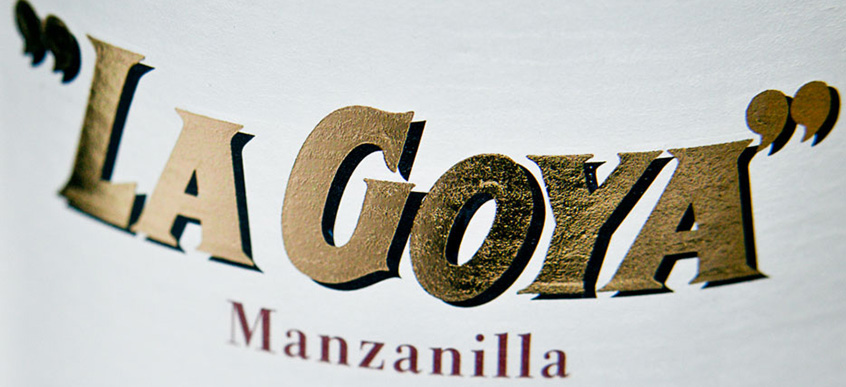 Manzanilla
Manzanilla La Goya
Product Info
Flagship, one of the better-positioned Manzanillas worldwide. Impecable, versatile and always appealing. It got its name in 1918 when Mañanos Jauffré better known as "la Goya," a famous copla singer and dancer of the era, leant her name to the wine.
Technical Sheet
This wine is biologically aged under layer of flor, using native yeast selected over the years. This Manzanilla is aged about 7 years by the traditional "Criaderas & Solera" system and is made of 100 percent Palomino variety grapes. It is aged in American oak casks restored over the course of the winery´s 100 plus year history. It is available in bottles of 37.5 and 75 cl and is 15% alcohol by volume.
Tasting Notes
Pale golden yellow in color, clean and glistening. The nose is fine and intense, presenting nuances typical of biological aging. Roasted almond, citrus peel and chamomile aromas are among the many highlights of this wine. It's light, dry and very smooth on the palate. It displays outstanding persistence and unctuousness. This Manzanilla has certainly reached peak maturity, hence the name "Pasada".
Pairing
A wine born to go with all kinds of seafood delicacies, especially shellfish and pescaito (fried fish). It is a perfect aperitif and the traditional accompaniment of typical Andalusian tapas.
Awards
96 puntos Guía Proensa 2015
95 puntos Revista Sobremesa 2017
93 puntos Guía ABC 2015
92 puntos Guía Wine Up 2019
92 puntos Guía Intervinos 2018
92 puntos Guía Intervinos 2016
92 puntos Wine & Spirits 2015
91 puntos Guía Peñín 2019
91 puntos Guía Peñín 2016
91 puntos Guía Xtreme 2016
90 puntos Guía Wine Up 2018
90 puntos Wine Spectator 2016
88 puntos Parker (Wine Advocate)
Medalla Oro CIVAS 2019
Medalla de Oro International Wine Awards 2019
Medalla de Oro International Wine Awards 2018