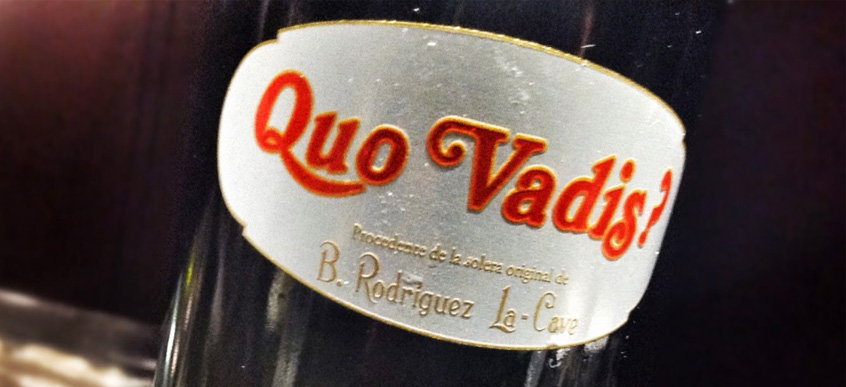 Amontillado, Vors
Quo Vadis – VORS
Product Info
VORS very old wine, of more than 40 years of aging, which is originally from the hearths of the Rodríguez La-Cueva house. Of the so-called "vino de pañuelo" for its spectacular wealth, elegance and aromatic depth. A living sample of archeology winemaker. It contains more than 270 years of history of the winery. The wine that all good amateur should try at least once in his life.
Data Sheet
Wine that is born as chamomile and therefore has a biological aging in a first phase, but after losing the characteristic flower veil goes through a second stage, already oxidative 100% palomino variety, with more than 40 years of aging in oak vats, through the traditional system of soleras and criaderas. The Alcoholic graduation is 20% vol. and comes in bottles of 50 cl.
Tasting note
Dark mahogany color, it is intense, clean and bright. The smell is sharp and very powerful. It presents aromas of nuts, such as almonds, and others wood odors, such as vanilla, coffee and coconut. It tastes very dry and incisive, while very powerful and complex, due to its high concentration. Aftertaste very long and persistent.
Pairing
The most exclusive and luxurious wine in the winery. A very old, very serious, stacked an accompaniment to the height. A great cheese, an excellent ham or a real tuna red of almadraba, for example. Although how best does this Quo Vadis look? alone, only accompanied by the delight of the expert taster who will appreciate that unique moment next to this wine of legend.
Awards
- 98 puntos Akata Wine 2016 - 97 puntos Parker (Wine Advocate) - 95 puntos Guía Peñín 2020 - 95 puntos Guía Proensa 2020 - 94 puntos Guía Peñín 2016 - Medalla Gran Oro Premios Mezquita 2019 - Medalla Gran Oro CIVAS 2016 - Medalla de Oro International Wine Challenge